Rent a Cabin or Camp at Diamond Crest Resort

Cabin Rentals at Diamond Crest Resort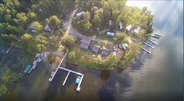 Enjoy your view from one of our 6 clean and comfortable housekeeping cabin rentals. Kitchens are fully furnished with all your needs refrigerator, cook stove/oven, microwave, toaster, coffee maker, cookware, bake ware, dishes, silverware and utensils. Living room, bedrooms and bathroom with a shower.
TV's with a DVD player.

Picnic table, couple lawn chairs, gas/charcoal grill and campfire ring available. Campfire wood for sale at the resort, to protect our trees no personal firewood allowed.
Provided Fresh linens, comforters, blankets, pillows, garbage bags, toilet paper, coffee filters and dishsoap.
Bring your own kitchen, bath and beach towels, lawn chairs and life jackets.
2019 Cabin Rates
* Cabin #1 and #2 - Each are 3 bedroom cabins, sleeps 9 guests.
$227 per night, $1133 per week based on 4 guests
$268 per night, $1339 per week based on 6 guests.

*Cabin #5 and #6 - Each are 3 bedroom cabins, sleeps 10 guests, A/C.
$241 per night, $1250 per week based on 4 guests.
$282 per night, $1411 per week based on 6 guests.

*Cabin #3 and #4 - Each are 1 bedroom cabins, sleeps 4 guests, A/C.
$125 per night, $750 per week based on 2 guests.

**Additional guests $22 per night or $110 per week.
**Well Mannered pets are welcome $25 per day or $130 per week.
Pets must be leashed at all times and never unattended.
*3 bedroom cabins may be rented as a 1 or 2 bedroom cabin - call for availability and prices.
Cabin Check in 4pm, Check out 9 am.
---
Camping AT DIAMOND CREST RESORT
Bring your RV, camper or tent and camp at Diamond Crest Resort a small campground with a panoramic view of Wabedo Lake. 30 - 50amp full hookup sites, electric and water sites and non electric sites. Bathhouse with shower and dump station.
Picnic table and fire ring available, campfire wood $5 a bundle, no outside firewood allowed.
2019 Camping Rates
*Full Hookup $46 per night based on 2 guests.
*Water and electric $40 per night based on 2 guests.
*Non electric $29 per night based on 2 guests.

**Extra guests $5,per night, per guest.
**Pets $6 per pet, per night.
**Boat Launch $7, Boat dock $6 per day, per boat.
*Camp by the day, week or month. Discount on week and month stays.
**Camping Check in 12pm
**Camping Check Out 11am

Rates do not include 7.375% Local and Minnesota Sales Tax.
Prices subject to change
A $300 deposit is required on all cabin rentals, $25 deposit required for camping reservations and $500 deposit required for DCR Lake Home Rental.
If you must cancel notify DCR as soon as you can, and if DCR is able to secure another reservation for same time period, all but a $50 handling fee will be returned. No deposit refund if DCR is unable to secure another reservation for the same time period.
Well mannered pets welcome, must be on a leash, picked up after and never unattended.
Guests are responsible for full length of their reservation, rain or shine, including RV, campers and tents.